Surprise Engagement Session - A love story for the ages!
San Antonio, Texas Engagement Photographer
Surprise Engagement Photo Session - A True Love Story

Oahu, Honolulu, Hawaii - North Shore
This is the love story of Michael and Mel. I think if I have to be perfectly honest they are my most favorite couple I have had the pleasure of working with. Michael contacted me and said he wanted to surprise his girlfriend by proposing while they are on vacation here in Hawaii. They were staying in Waikiki and also had plans to go visit Disney Aulani for a few days.

We worked out the perfect plan. First we figured out the best location for their session. Mel has always wanted to do couples photos on a secluded Island beach. Michael told her he booked them a couple's session as a gift. She had no idea of what was about to happen.

| | |
| --- | --- |
| | |

First we looked over various locations and Michael picked his favorite spot out of the options I sent him. This is also one of my all time favorites and it is hard not to have an amazing photo session here. The light is always so incredibly magical. This sunset was no different, the beach delighted us with the most romantic cotton candy sunset and I could not have planned this any better had I tried. Thank you mother nature for playing along!

I met Mel and Michael at the beach and we clicked right away. We had so much fun chatting and just getting to know each other. Once we got down to the beach we got going with their session. First we did just a few basic couples poses and sequences I walk through with my couples. They were having a great time. I then set the stage for Michael to make his move. I asked Mel to stare out at the ocean and set her up for a "photo". She was in position, while I was pretending to take photos of her staring at the ocean, Michael snuck up behind her and got down on one knee. I then prompted her to turn around and VOILA!! She was so surprised and blown away. I just let the magic all happen there right in front of my camera. Many happy tears were shed, including myself. They truly share an amazing love for one another and it showed. SHE SAID YES!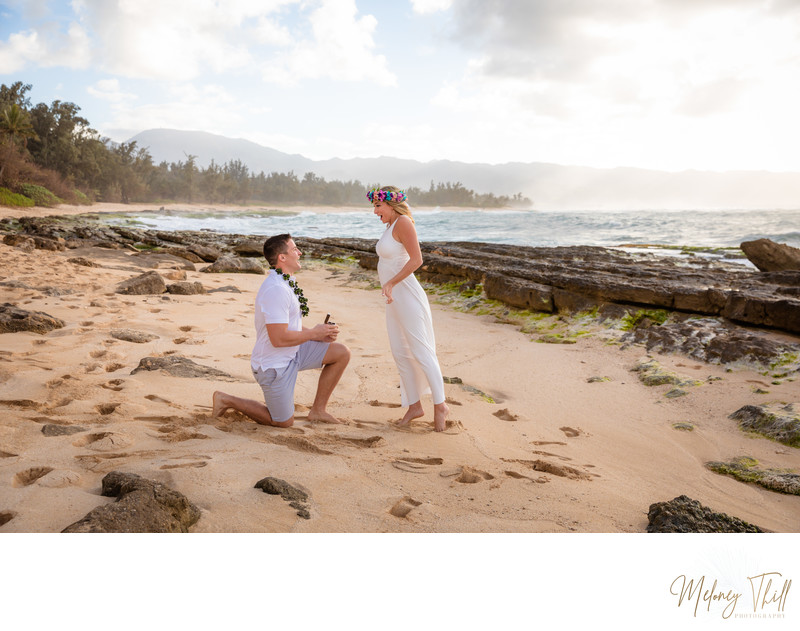 Well and as the saying goes the rest is history. The moment was absolutely perfect. I feel incredibly lucky to have met this amazing couple and was able to catch a small glimpse into their love story. Michael and Mel will always hold a very special place in my heart.

It is always such an honor to share in these very private and emotional moments with couples and families. This is truly why I love doing Engagement photography. You get to share in an incredible moment and you get to create the photo memories that they will be able to treasure forever.


But wait, there is more……..
Follow me to see the next chapter in their beautiful love story.
---
Meloney Thill Photography - Engagement Photographer and couples choice award winner by wedding wire and the knot.

Let me help you plan your perfect engagement session
Contact me here
---
Surprise Engagement Session - A love story for the ages!